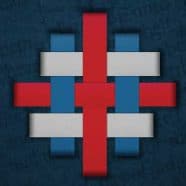 Interwoven
Join the group from Buffalo and Rochester going to Cincinnati this March!
Drs. David Holmes and Myron Glick in Buffalo and Dr. Morehouse and Jan Thirlby in Rochester are organizing a contingent of health care workers to attend this year's Christian Community Health Fellowship (CCHF) national conference, organized on the missional medicine theme of "Interwoven" – indicating that all that we do is interwoven with our faith. Drs. Glick and Morehouse will be among the presenters.
CCHF MISSION
The mission of CCHF is to educate, encourage and equip Christians to live out the gospel through healthcare among the poor.
CCHF VISION
We envision a movement of God's people who choose daily to promote healing in marginalized communities in the name of Jesus.
CCHF VALUES
Supremacy of Christ: Honoring the Lordship of Christ and submitting ourselves to his authority and person.
Prophetic Voice: Challenging God's people to choose to go against the status quo; to be incarnational, sacrificial, and to enter into the suffering of the poor.
Wholistic Care: Encouraging excellent, compassionate health care, ministering to spiritual, physical, and emotional needs of people and their communities.
Reconciliation: Restoring right relationships to God, to one another, and to all of creation, addressing barriers that commonly divide, including race, social status, and economic oppression.
Justice: Working toward God's kingdom, setting all things right for the oppressed, the forgotten, and particularly the marginalized in our health care system.
Partnership: Listening to and working alongside churches, patients, our communities, and one another.
CONFERENCE INFORMATION
Click here for a flyer with the Conference Schedule or visit the Conference website here for full details and registration information: https://cchfconference.org/. Please contact Dr. Morehouse if you have any questions or would like to attend.