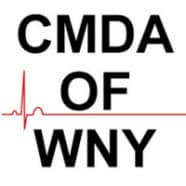 Fusion Event (virtual-only)
Saturday, March 12th @ 7:00pm
Topic – Addiction Medicine and the Opioid Crisis.
Register at www.cmdaofwny.org
Join us for a discussion on Addiction Medicine, featuring our good friends and colleagues, Dr. Warren Yamashita and Pastor Frank Monteleone who are working together with others to form a new interest group within CMDA nationally that will focus on a spiritually sensitive and socially responsible response to the addiction epidemic.
Warren is a Family Medicine and Addiction Medicine Physician who recently graduated from the Stanford Addiction Fellowship. He is currently serving at Hurtt Family Health Clinic, a Federally Qualified Health Center in Orange County, California, providing family medicine and addiction medicine services. He is also a Stanford Addiction Medicine Fellowship Adjunct Instructor where he leads their Diversity, Equity, and Inclusion didactics with a Biblical frame.
Pastor Frank will share how Recovery Coaches assist those in recovery overcome barriers and obstacles. Click here for a flyer to help you help us get the word out!
Dr. Warren Yamashita and Pastor Frank Monteleone