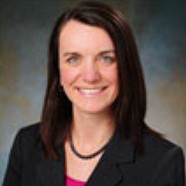 Dr. Christine Birnie, Department Chair of Pharmaceutical Sciences and Associate Professor, has been appointed to serve as Interim Dean of the Wegmans School of Pharmacy, effective immediately.
Birnie joined the Wegmans School of Pharmacy in 2006 as a founding faculty, and was promoted to Department Chair, Pharmaceutical Sciences in 2010. Most recently, she also served as the Interim Associate Dean.
In addition to her administrative responsibilities as department chair, Birnie remains active in the classroom, teaching pharmacy calculations, pharmaceutics and the compounding laboratory. She developed and teaches an elective course entitled Introduction to Medical Missions, which includes students from nursing and pre-professional disciplines. She also precepts final year students in clinical rotations related to international medical missions and local service-learning rotations.
Birnie is actively involved in service, both to the profession and the global community at large. She is an avid proponent for service and volunteerism locally and abroad, and has led and participated in over 15 student-based medical mission trips around the world, traveling regularly to El Salvador and India. She has served in elected positions and boards for the Christian Pharmacists Fellowship International and advisory committee for the Global Missions Health Conference. Additionally, she remains actively involved in the American Association of Colleges of Pharmacy (AACP), having served on the Compounding Task Force, Pharmaceutics Section programming committee, abstract reviewer and NIP grant reviewer. She is a 2012 graduate of the AACP Academic Leadership Fellowship program (ALFP). Birnie is also a member of AAPS, APhA, CMDA, and is a registered pharmacist in PA, NJ, and FL.