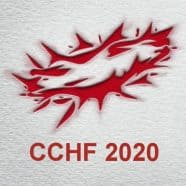 A personal invitation
Christian Community Health Fellowship (CCHF) will be holding its annual national Conference in Cincinnati this coming March 26-28. Everyone who sees this notice should seriously consider signing up and coming with scholarship assistance available for students! This year's theme is "Grit & Grace" – both inspirational and practical.
The CCHF Conference is a truly unique experience. It is the only conference designed for people like you – who see medicine as a calling, and are committed to missional, faith-driven healthcare here in the United States.
You will be inspired with a vision of what it means to live out the gospel through healthcare and equipped with super-practical tools to be faithful and effective in extending Christ's love through excellent, appropriate, holistic healthcare. Each workshop, discussion group and plenary session features best practices presented by experts who share from a Christian faith perspective.
Conference 2020 is relational. You will meet like-hearted disciples who are willing to share, listen, and pray with you. Students, practitioners, support staff and executive leaders come together to share their stories, knowledge and insights – and to be family.
If you see medicine as more than a career choice – as a calling to serve Christ – then these are your people. Using your career to serve God intentionally is the most fulfilling way to live your life. CCHF Conference 2020 will help you to achieve that life.