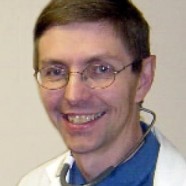 Buffalo physician, David M. Holmes, MD, has been named New York State Family Physician of the Year by the State Academy of Family Physicians. He received the award during the Academy's annual awards luncheon on June 9 at the Desmond Hotel in Albany during the Academy's Congress of Delegates.
Dr. Holmes was selected by the Education Commission of the Academy from among several family physicians nominated by patients and colleagues. Dr. Holmes' biographical sketch included his personal mission statement: "The purpose of my life is to love and honor God and my family and make a positive and significant difference in the lives of others."
"The Family Physician of the Year award is the highest honor bestowed by the New York State Academy of Family Physicians," explained Vito Grasso, executive vice president of the Academy. "It is presented to a physician who, in the judgment of the Academy, has exemplified the highest standards of patient care and advocacy. We are very pleased to recognize Dr. Holmes and are honored to have a physician of his obvious commitment to medicine and outstanding patient care among our membership."
Links:
Full Press Release from the NY State Academy of Family Physicians.
Press Release from SUNY at Buffalo.
Recent article in The Buffalo News about Dr. Holmes and his work and witness.