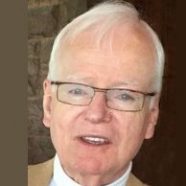 John A. O'Sullivan M.D.
Brighton – Died peacefully surrounded by his loving family, May 20, 2018, at the age of 80. Beloved husband of Rosemary (Burke) O'Sullivan of Brighton, NY, with whom he shared 47 years of marriage. Devoted father of Elizabeth Jess and her husband, Timothy of Batavia, NY, and Kathleen O'Sullivan-Fortin and her husband, Peter Fortin of Ipswich, MA. Loving brother of Helen Sweeney, Pauline Lynch and her husband, P.J., and Vincent O'Sullivan and his wife, Breda, all living in Ireland. Cherished grandfather of Margaret, John, Charlotte, and Daniel. Loving uncle to Michelle Sweeney, Ronan Sweeney, Kerry (O'Sullivan) Power, Julia (O'Sullivan) Prenderville, Eoin Lynch, Hazel (O'Sullivan) Mellett, Jenny Lynch, and Vivienne (O'Sullivan) Beckett.
Born on April 28, 1938, in Dublin, Ireland, John completed his undergraduate and medical degree at University College of Dublin and came to the United States in 1968 for a fellowship in Psychosomatic Medicine and completed his residency program in Neurology at the University of Rochester. John practiced Neurology for 43 years in the Greater Rochester area serving patients at St. Mary's Hospital, Wilson Health Center, Park Ridge Hospital, Rochester General Hospital, Strong Memorial Hospital, and a long private practice at 1401 Stone Road in Greece.
Upon his retirement in 2011, John devoted his second act to relishing his role as both student and instructor at the OSHER Institute and by leading many Irish Film classes through the Irish American Cultural Institute (IACI) Rochester. In 2017, he was awarded the Eoin McKiernan Achievement Award from the IACI in recognition of his enduring work in promoting an intelligent appreciation of Irish culture.
The O'Sullivan family would like to extend their heartfelt gratitude to the Staff at the Hildebrandt Hospice Care Center for their exceptional loving care.
Friends may call Wednesday, May 23 from 5-7 PM at the funeral chapel (2305 Monroe Ave.). A Funeral Mass will be held Thursday, May 24, 9 AM at Our Lady Queen of Peace Church, 601 Edgewood Avenue. In lieu of flowers, please make donations in John's name to ALD Connect, Inc., 35 Village Road, Suite 100, #353306, Middleton, MA 01949 or www.aldconnect.org. To share a memory of John or send a condolence to the family visit www.anthonychapels.com.