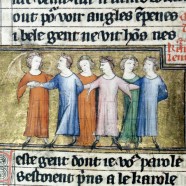 Our next Breakfast will be held on Saturday morning, October 17th, from 9-11 am at the Academy of Medicine, 1441 East Avenue. Dr. Hank Paszko will be sharing on the topic "Serving in Uncertain Times – Maintaining personal balance in a time when social and economic factors are pressing in on medical practice from all directions."
Hank is the Medical Director of Churchville-Chili Family Medicine. He did his undergraduate work as an English major at Columbia University and attended medical school at the University of Rochester where he received a Reader's Digest international fellowship to do medical work in Zambia, Africa during his last year. After graduation he did an additional year of post doctorate training in Orthopedic Surgery before completing his residency in Family Medicine. He recently received a Master of Arts in Theology from Northeastern Seminary and serves as Pastor of Faith Community Church in LeRoy. Hank has been married for over twenty years and has four children.
Please set the date aside, mark your calendars, and RSVP using our Response page. Be sure to note location (click here for Directions to the Academy of Medicine).