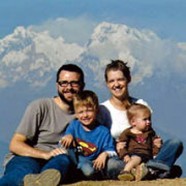 Dr. David and Hannah Hough have been back in Rochester since December after spending two years serving with Samaritan's Purse Ministries in Tansen, Nepal. Now Nepal is calling again, this time after the massive earthquake we have all heard about. David will be returning on May 15 to spend two weeks doing relief work with Samaritan's Purse. Click here if you would like to support David and others providing short-term mission-driven Gospel relief there. To read about and support the United Mission to Nepal for longer term restoration and rehabilitation work where the Hough's friend Peter Lockwood is working, click here.
Background: Working as a doctor in a hospital in the developing world was a long held dream of David, and in the fall of 2012 David and Hannah and their two children (now 3!) moved from Rochester to Nepal where he began working as an Internist at the Tansen United Mission Hospital through his alliance with Samaritan's Purse Ministries. Working in the best hospital in Nepal brought many people to their doors seeking medical attention, but because medical care is often sought as a last resort, the work was difficult. Hannah, a lawyer, went to Nepal with her own heart's desire to aid women caught in the mire of human trafficking. Using her training, she wrote proposals and did research for Tiny Hands, a Christian organization working against human trafficking.
Click here to read a delightful human interest story David wrote while on the mission field.