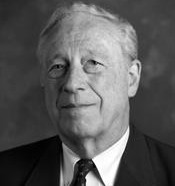 Paul Louis LaCelle, July 4, 1929 – March 9, 2012
It is with sadness that we share the news that our colleague and long-time member of MCCF, Paul LaCelle, passed away in Rochester last week. He was a beloved husband, father, brother, doctor, colleague, and mentor to many over the long course of his career.
Paul married June Dukeshire in 1953, after both he and June graduated from Houghton College, and then served in the U.S. Navy during the Korean War. He attended the University of Rochester School of Medicine, and joined the faculty there in the Department of Radiation Biology and Biophysics after completing a postdoctoral fellowship at Penn State University. He remained at the School of Medicine for the duration of his career, where he pursued research, taught in the Medical School and served in administrative roles including chair of the Biophysics department and most recently as Senior Associate Dean of Graduate Studies. He retired from the Medical School in 2008 after June's death and continued his relationship with the University of Rochester in the Biomedical Engineering Department as his health allowed.
Friends are invited to calling hours on Saturday, March 17, from 4:00-7:00 pm at the Keenan Funeral Home (7501 Pittsford-Palmyra Rd. in Egypt) and to the Memorial service Sunday at 2 p.m. at the Penfield Wesleyan Church (1580 Five Mile Line Rd). Charitable donations can be made to Wilmot Cancer Center at the University of Rochester School of Medicine.
Click here to visit Paul's Guest Book.