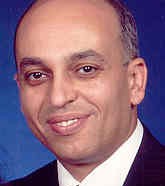 In Memorium
Waseem N. Ghazoly, MD

August 4, 1962 (Cairo, Egypt) – October 25, 2007 Survived by his loving wife Sonia Ghazoly; children Mariah and Damian Ghazoly; sisters Nagua (Edward) Ibrahim and Nashua (Nashaat) ; father-in-law and mother-in-law Selim and Samia Serry; sister-in-law Sylvia Serry; brother-in-law Steve Serry; many friends and colleagues.
Visitation was held on October 28 from 2 pm until 6 pm. A celebration of Waseem's life was held at 11 am on October 29 at Greece Assembly of God Church, 750 Long Pond Road. Interment Riverside Cemetery.
Donations may be sent to the Mary Cariola Center, 1000 Elmwood Ave, Rochester NY 14620.