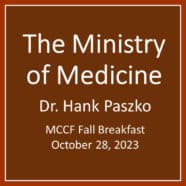 Our Fall Breakfast
This morning about 20 of us gathered in the Blossom Room at Brighton Presbyterian Church for a wonderful time of greeting friends, meeting new colleagues and students, and sharing fellowship over a delicious breakfast together.
One of our colleagues, Dr. Hank Paszko, brought us a message of encouragement, experience, and insight from his years of medical and pastoral ministry (click here to download a PDF of his PowerPoint). Afterward there was an active time of discussion with practical Q&A about how we might be even more effective in our encounters with others as "living letters" of God's Good News and healing love.
Our Next Breakfast
We're currently in the planning stages for our annual Winter Missions Breakfast. If you know any colleagues who have been involved in missions activity this year and might enjoy sharing with us in the early part of 2024, please let us know.
Our Directory
We're also in the process of updating our Greater Rochester  Health Care Providers Directory for 2024. If you know any Christian colleagues that you think would appreciate the fellowship we have together, please contact us wo we can invite them. Click here for information about and online access to our current 2023 Directory.