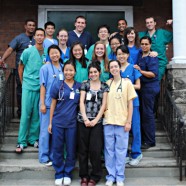 The vision of the Summer Medical Institute (SMI) is to raise up healthcare providers who use their professions to honor God and grow in love for Him. The SMI is organized by the Valley Baptist Family Practice Residency in Harlingen, TX. This will be the ninth year for the South Texas SMI. Being located on the TX/MX border, we have ample opportunity to provide care to medically underserved neighborhoods called colonias.
The SMI medical outreach serves as the practical vehicle for mentoring the next generation of health care workers. Each year we accept applications from qualified physicians and nurses to serve as mentors to SMI students. Mentors come alongside students to encourage and inform them about the role of the healthcare worker in reaching the world with the Good News of Jesus Christ. Most faculty serve for a week during the month-long project. If you would be interested in coming alongside students this summer, feel free to contact Steve Johnson, SMI Coordinator, by phone at 956-389-2492.
Please take a few moments to pray about playing a role in what has proven to be a significant experience in medical students' lives.